LINKS TO SOME OF MY FAVOURITE EQUESTRIAN SITES.
IF YOU LOVE HORSES YOU WILL ENJOY VISITING THESE OTHER GOOD SITES.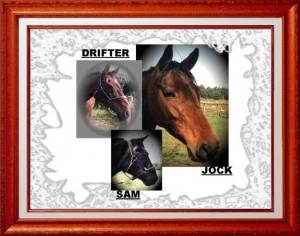 THESE ARE MY THREE HORSES,JOCK,DRIFTER AND SAM.

Search Engines
AltaVista You know us as the Internet's original search engine.
Lycos One of the most visited hubs on the Internet reaching one out of every two web users.
Yahoo! With over half a million sites divided into more than 25,000 categories, Yahoo! is both browseable and searchable.
InfoSeek GO Network is a new brand that brings together the very best of the Internet in one, easy to use place.


THE FIFE RIDING CLUB GREAT SITE FOR NEWS ABOUT ALL THE EQUESTRIAN EVENTS IN AND AROUND FIFE.
BRITISH HORSE SOCIETY ALL YOU WANT TO KNOW ABOUT SHOWJUMPING,DRESSAGE AND ANYTHING RELATING TO HORSES.ALSO SOME GOOD FREE GRAPHICS TO DOWNLOAD. WELL WORTH A VISIT.
Hilary's Horses This is the link to my other site about my three horses Jock,Harry and Phantom